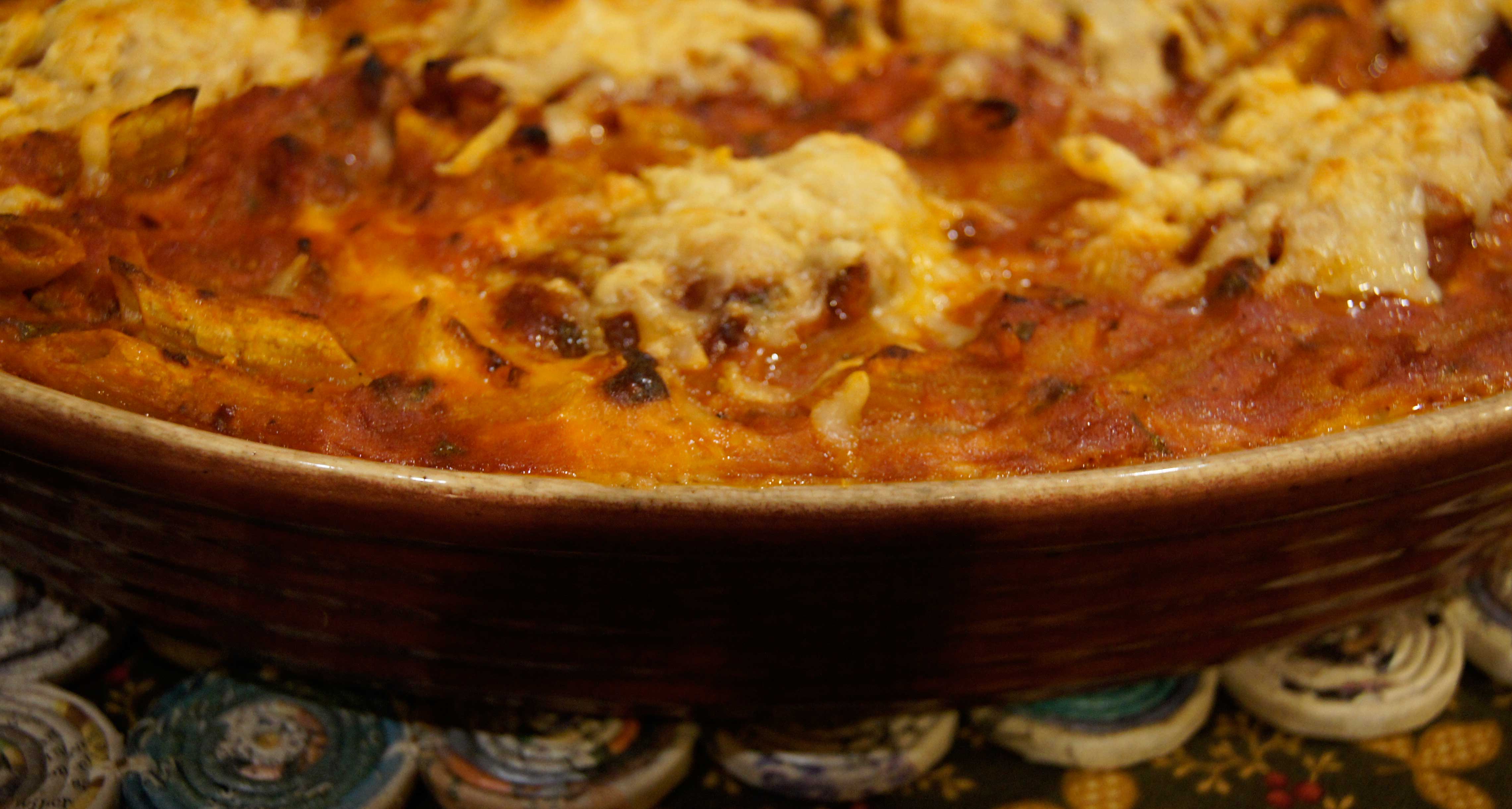 Baked Whole Wheat Penne Rigate Served with Ledger David Cellars 2013 Dark Night
By Robert Trottmann
Serves 6
Ingredients
2 tablespoons unsalted butter
2 tablespoons all-purpose flour
2¼ cups whole milk, slightly warmed
2½ cups grated Parmesan, divided
Salt & freshly ground pepper
¼ cup olive oil
1-1/2 ounce finely chopped bacon/ your choice
1 large yellow onion, chopped
4 garlic cloves, chopped
½ teaspoon crushed red pepper flakes
2 tablespoons tomato paste
1 28-oz. can crushed tomatoes
¼ cup chopped fresh basil
1 pound Whole Wheat Penne Rigate Pasta/ I like Montebello from Italy.
1 pound fresh mozzarella, cut into ½" pieces
Preparation
For the white béchamel sauce: Heat butter in a medium saucepan over medium until foamy. Sprinkle flour over and cook, whisking constantly, 1 minute. Gradually whisk in warm milk. Bring mixture to a boil, reduce heat, and simmer, whisking often, until béchamel is thickened to about the consistency of heavy cream 8–10 minutes (thorough cooking ensures a creamy sauce and eliminates any raw flour flavor). Remove from heat and add 2 cups Parmesan, whisking until cheese is melted and sauce is smooth. Set aside.
In a small skillet cook bacon on low/medium heat until crispy. Set aside to cool and chop finely.
Heat olive oil in a large saucepan over medium-high. Add onion, garlic, and red pepper flakes; season with salt and pepper. Cook, stirring often, until onions are translucent, golden and soft, 8–10 minutes. Add tomato paste and cook, stirring, until slightly darkened, about 2 minutes.
Add crushed tomatoes and season with salt and pepper. Bring sauce to a simmer and cook, stirring often, until slightly reduced and flavors have melded, 20–25 minutes. Let cool slightly, then transfer to a large mixing bowl. Stir in basil and season with salt and pepper.
Meanwhile, preheat oven to 350°. Cook pasta in a large pot of boiling salted water, stirring occasionally, until very al dente, about 5 minutes (the pasta will continue to cook in the oven); drain.
Transfer reserved béchamel to the large bowl; add pasta and mozzarella and toss to combine. Add all but 1 cup tomato sauce and gently fold mixture a few times.
Transfer pasta mixture to a 13×9″ or other 3-quart baking dish, dollop with remaining tomato sauce, and scatter remaining Parmesan over pasta. Bake until mozzarella is melted and sauce is bubbling around the edges, 15–20 minutes.
Heat broiler on low. Broil until pasta and cheese are dark brown in spots, about 4 minutes. Let pasta sit 5 minutes before serving.
Enjoy!
Recent News
Visit Us
Le Petit Tasting Room
245 N. Front St, Central Point OR 97502
Hours
Monday

12-5

Tuesday

12-5

Wednesday

12-5

Thursday

12-5

Friday

12-5

Saturday

12-5

Sunday

12-5