By Regina Vaccari
Calling all fine cheese and wine lovers! Kick off spring with Ledger David at Le Petit Tasting Room in Central Point as we celebrate the 12th Annual Oregon Cheese Festival. It's always a busy, fun time during this annual event, held this year at the Rogue Creamery, Saturday, March 19 from 10am-5pm. To complete their culinary experience, event attendees make it a tradition to stop at the Artisan Corridor's neighboring wine and chocolate shops. That's where we co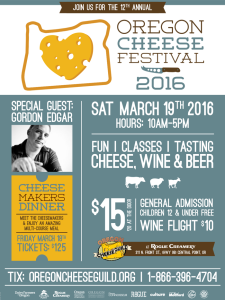 me in!
We'll be open from noon-5pm to greet you with a selection of your favorite wines paired with warm tomato bisque, clam chowder, and fresh baked bread. Listen to the eclectic sounds of Savanna – performing a blend of early rock, country and blues from 1-3pm. If you're heading over to the big tent at the Creamery, stop in and see the Ledger David team!
For a more intimate experience, check out the Cheese Makers Dinner the night prior to the festival, on Friday, March 18. Tickets are $125.00 and include a sumptuous 5-course, cheese-themed meal. Each course is crafted by Chef Damon of Inn at the Commons and will spotlight a cheese made by one of the festival's artisans, paired with a local wine or beer. All event proceeds benefit the Oregon Cheese Guild.
Southern Oregon (actually Central Point) is the birthplace of the Oregon Cheese Guild, which was founded in 2006. Rogue Creamery was the site of the first Oregon Cheese Guild Benefit Dinner and the first Oregon Cheese Festival. This year's event will also feature a petting zoo and a photo booth.
For more info, visit www.oregoncheeseguild.org.
Cheers!
Press & Trade
Click here
for press info, press releases and images available for download.
Recent News
Visit Us
Le Petit Tasting Room
245 N. Front St, Central Point OR 97502