Summer is Nearly Here!
Join Ledger David Cellars for our Summer Primoris Wine Club pick up two weekends in June! Let's Celebrate June 1-2 & June 8-9 at Le Petit Tasting Room. Enjoy Ledger David's delectable summer wines including our most award winning 2017 Sauvignon Blanc, new release lush & velvety 2016 Syrah, and new release signature red blend 2016 Orion's Nebula. Taste these wines paired with complimentary small bites from noon to 5pm both weekends.
Looking forward to private wine club hours? We're hosting three separate evenings just for wine club members! Enjoy wines paired with scrumptious bites from 6-7pm June 8, 21, & 29.. *An RSVP is required for the private seating hours Friday and Saturdays from 6-7pm so that we can offer cozy & personalized service & enough tasty fare for all. Limited seating available each evening.
**Please note: we do our best to accommodate wine club members' requests to sit together if requested at time of reservation. Due to event popularity & limited space we are not always able to accommodate larger group seating. Thank you for your understanding!
Private Wine Club Hours: Fri | June 21 | 6-7pm and Sat.| June 8 & 29 | 6-7pm*
Wine and food pairings. *RSVP required. 541-664-2218
General Hours: Sat. & Sun. |June 1 & 2 and June 8 & 9| Noon-5pm
Wine tasting & artisan bites. Celebrate wine club releases both weekends!
SHIPMENTS: Wine club shipments will go out on June 5 & 6, weather permitting. If you are unable to receive your shipment during the second week of June, please contact us ahead of time and we'll hold for a better shipping date!
Summer Wine Club Selections Include:
3-Bottle Members
General: 2017 Sauvignon Blanc (1), 2016 Syrah (1) & 2016 Orion's Nebula (1)
Reds Only: 2016 Dark Night (1), 2016 Syrah (1) & 2016 Orion's Nebula (1)
Whites Only: 2017 Sauvignon Blanc (1), 2017 Radiant White (1) & 2017 Viognier (1)
6-Bottle Members
General: 2017 Sauvignon Blanc (2), 2016 Syrah (2) & 2016 Orion's Nebula (2)
Reds Only: 2016 Dark Night (2), 2016 Syrah (2) & 2016 Orion's Nebula (2)
Whites Only: 2017 Sauvignon Blanc (2), 2017 Radiant White (2) & 2017 Viognier (2)
12-Bottle Members
General: 2017 Sauvignon Blanc (3), 2016 Syrah (3), 2016 Orion's Nebula (3) & 2016 Dark Night (3)
Reds Only: 2015 Petit Verdot (3), 2016 Syrah (3), 2016 Orion's Nebula (3) & 2016 Dark Night (3)
Whites Only: 2017 Sauvignon Blanc (3), 2016 Chardonnay (3), 2017 Radiant White (3) & 2017 Viognier (3)
BILLING INFO:
Please let us know if your billing information has changed. Call the tasting room at (541) 664-2218 or email mckayla@ledgerdavid.com and Mckayla Hamlin would be delighted to update your payment information before processing your wine club order. You can also now update your credit card online with our secure wine club form. Wine Club Update
WINE CLUB DISCOUNTS:
We will be processing orders on May 28th. It is important for us to run cards ahead of wine club to ensure a seamless and enjoyable wine club pick-up experience for our members. As a reminder, 3-bottle members receive a 15% discount, 6-bottle members a 20% discount and 12-bottle members a 25% discount on all wine club selections.
OTHER PICK UP OPTIONS:
If you are unable to join us during this event weekend, your wine club selections will be available on or after Tuesday, May 28th at the tasting room in Central Point (next to the Rogue Creamery). Stop by any time during regular hours; noon to 5pm daily or contact us, and we will gladly ship your wines (shipping fee charged to your card on file).
By Regina Vaccari
Urban-Elegant Tasting Room Offers Open-Air Wine Tasting Experience in Southern Oregon's Popular Artisan Corridor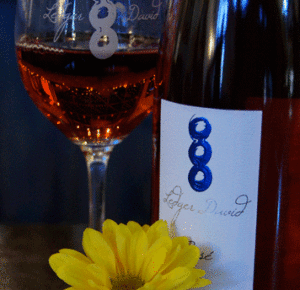 Ledger David Cellars will roll up the overhead doors to our urban-elegant 'Le Petit Tasting Room' for those looking to taste and purchase the newest wine releases this Memorial Day Weekend. Featured wines include the bright and aromatic 2015 Sangiovese Rosé and a barrel tasting and future sales of 2013 Sublimus – our first vintage Super Tuscan.
Join us Saturday, May 28 through Monday, May 30. Hours are noon-5pm. On Sunday and Monday, guests can also enjoy gourmet specialty pizza fresh from Mamma Mia's wood fire oven.
"Memorial Day Weekend is an exciting time as it's traditionally the 'official' start of wine tasting season," says owner Lena Varner. "It's a chance for regional wineries to showcase white and rosé wines made with fruit picked in the fall and bottled in the spring."
In addition to the release of our 2015 Sangiovese Rosé, Ledger David will also offer barrel tastings and future sales of our first 2013 Super Tuscan, a blend of Sangiovese, Cabernet Franc and Petit Verdot.
"Ledger David's focus is producing premium red blends and award-winning single varietal wines," says Varner. "While blends are often made from a vineyards' excess fruit, Ledger David winery uses its best wine grapes from each vintage to produce bold and complex blends."
Looking forward to sharing these Italian-style wines made with Amore!
More Info
Nestled between the Rogue Creamery and Lille Belle Farms Gourmet Chocolates—Ledger David's Le Petit Tasting Room completes the trifecta of world class wine, cheese and chocolate in Southern Oregon's premier Artisan Corridor. Indulge in our unique wine tasting experience. Just 2 miles off I-5, left on exit 35. Open daily, noon to 5pm. For more information, visit www.ledgerdavid.com or call (541) 664-2218.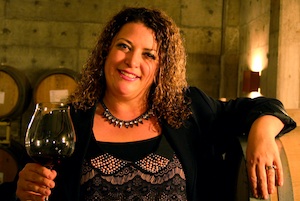 Deanna Eames has joined Ledger David Cellars as its new events and sales director. Deanna is an integral new addition to the Ledger David team and brings with her nearly two decades of sales and marketing experience.
Most recently, she was a regional sales and brand manager at Willamette Valley Vineyards where she planned and implemented successful sales and marketing strategies for the nearly 100,000 case winery. Prior to launching a career in the regional wine industry, Deanna worked as a sports marketer for well-known national brands including Oakley.
Please join us in welcoming Deanna!
Recent News
Visit Us
Le Petit Tasting Room
245 N. Front St, Central Point OR 97502
Hours
Monday

12-5

Tuesday

12-5

Wednesday

12-5

Thursday

12-5

Friday

12-5

Saturday

12-5

Sunday

12-5