Roasted Leg of Lamb with 2011 Dark Night Red Blend
By Guest Blogger & Wine Club Member Sean Preston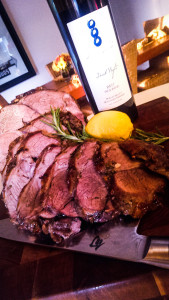 The calendar has indicated the last day of summer has come and gone. The hot temperatures and dry conditions should now wane to cool evenings, foggy mornings, and yards full of morning dew. To the eye, the changing season is in full effect, with the slow turn of fall colors in the trees. However, the temperature, the fog, and morning dew have not gotten the message it seems here in Southern Oregon, as we are still in the throes of 90-degree days, with the lingering smoke from summer forest fires in the air.
As a person who loves fall, and all the majesty the season brings, something had to be done. I could not sit idly by with the air conditioning running, simply surviving a fall day disguised as a day in August. It was time to perform a rain dance…a culinary rain dance.
I was armed with the hearty, earthy flavors of lamb, white beans, and vanilla. Along with an arsenal of some of the best wines the Rogue Valley has to offer, I was now prepared for this season changing ritual.
The dance would be done in three parts:
The first part would begin with a boneless leg of lamb, rubbed inside and out with lemon, garlic, shallot, and rosemary and destined for a slow and low roasting in the oven. Then it was finished off with a sauce made with drippings from the lamb and the 2011 Dark Night red blend from Ledger David.
The second part would have white beans, joining some 2011 Ledger David Sauvignon Blanc, a mirepoix, chicken broth, and herbs to simmer and cook into a creamy side dish with all the flavors of fall.
The final part of this rain dance is dessert. Whole vanilla bean is split and seeded, and joined with custard to be transformed into gelato. A whole bottle of 2010 Tempranillo Port from Ledger David is emptied and reduced over low heat to create a syrup flavor bomb of mass destruction, which is drizzled over the vanilla gelato.
The end result is a house full of amazing fall aromas, and a meal that would convince the ever-fickle Mother Nature that fall is indeed here, and to herald in this glorious season.
Did it work? Well, the weather forecast is for rain and cooler temperatures so, you be the judge.
Roasted Leg of Lamb
Ingredients:
2 Tbsp. of extra-virgin olive oil
3 medium garlic cloves, minced
2 medium shallots, minced
2 Tbsp. fresh rosemary chopped
Zest of one lemon
½ tsp of red pepper flakes
2 Tbsp. of kosher salt
½ tsp of freshly ground black pepper
3-4 large carrots
1 whole boneless leg of lamb 3-5lbs.
Place oven rack on lower middle position, and preheat oven to 275 degrees. While oven is heating up, heat olive oil in a small saucepan over medium heat. Add garlic, shallot, rosemary, lemon zest, and red pepper flakes. Cook, stirring occasionally, until shallots and garlic are softened, about 5 minutes. Transfer to a small bowl, add salt and pepper and mix to combine.
Rub half of mixture into inside of butterflied lamb leg. Roll leg and tie securely with butcher's twine. Rub remaining mixture over exterior of lamb. Cook immediately or let rest uncovered in the refrigerator for up to one night for best flavor and texture.
When ready to cook, place lamb on top of large carrots in the bottom of a heavy enameled cast iron French oven, or Dutch oven. Placing lamb on top of the carrots keeps meat from burning on the bottom, and keeps meet out of the rendering fat. Transfer to oven and roast until an instant read thermometer inserted into coolest section of lamb registers 125° to 130°F for medium-rare, or 130° to 135°F for medium, about 3 hours. Remove from oven and let rest for 40 minutes.
While lamb is resting, increase oven temperature to 500°F. Place lamb on a wire rack or directly on oven rack with a rimmed baking sheet underneath to catch any drippings. Return lamb to oven and roast until exterior is deep brown and crisp, about 15 minutes. Remove from oven and let rest 5 minutes. Remove twine with kitchen shears, transfer lamb to cutting board, slice into 1/4 inch slices, and serve, along with a glass of 2010 Dark Night.
Dark Night wine sauce
Ingredients:
1 cup of Dark Night
All drippings from cooked lamb
1-2 Tbsp. of unsalted butter
1 tsp of corn starch
Salt and Pepper to taste.
Gather all drippings from lamb and separate fat by using a fat separator or letting cool and spooning the fat off the top. Return drippings (minus fat) to small sauce pan and bring to a boil. Once boiling add Dark Night, reduce heat and simmer for 2 minutes to remove alcohol. Take corn starch and dissolve in a small amount of water or wine, and add to sauce stirring constantly. Once sauce has simmered, and has reached a thicker consistency but not too thick, add butter and salt pepper to taste. Pour over lamb slices.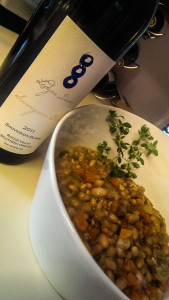 White Beans with Ledger David Sauvignon Blanc
Ingredients:
½ cup Ledger David Sauvignon Blanc
2 Tbsp. extra-virgin olive oil
2 small onions, chopped fine
2 small carrots, chopped fine
2 celery ribs, chopped fine
3 garlic cloves, minced
2 cups cooked white beans (preferably Great Northern or navy)
2 to 2 1/2 cups chicken broth
2 Tbsp. unsalted butter
1 bay leaf
In a saucepan, heat oil over moderately high heat until hot but not smoking and cook onions, carrots, celery, and garlic, stirring, 2 or 3 minutes, or until softened. Add white and bring to a boil for 2 minutes, or until the wine is reduced by half. Add beans, 2 cups broth, butter, and bay leaf and cook over moderate heat, stirring occasionally and adding enough remaining broth to keep beans moist and to reach a creamy consistency, about 30 minutes. Discard bay leaf, salt and pepper to taste.
Ledger David Tempranillo Port sauce:
Ingredients:
1 bottle of 2010 Tempranillo Port
Homemade vanilla ice cream or Gelato or your favorite store bought French vanilla ice cream.
(I am skipping the Gelato recipe, as most people don't have a gelato machine in their home…however, you can make equally good ice cream with a home ice cream maker.)
Pour entire bottle of port into a small sauce pan. Simmer port under low heat until reduced to roughly ¼ cup, stirring occasionally. This will take about an hour. Keep your eye on this, especially as you get close to the end, as you can burn the sauce, if it gets too hot. Serve warm, drizzled over ice cream, with a small glass of the port.
Enjoy!
Sean
Recent News
Visit Us
Le Petit Tasting Room
245 N. Front St, Central Point OR 97502
Hours
Monday

12-5

Tuesday

12-5

Wednesday

12-5

Thursday

12-5

Friday

12-5

Saturday

12-5

Sunday

12-5