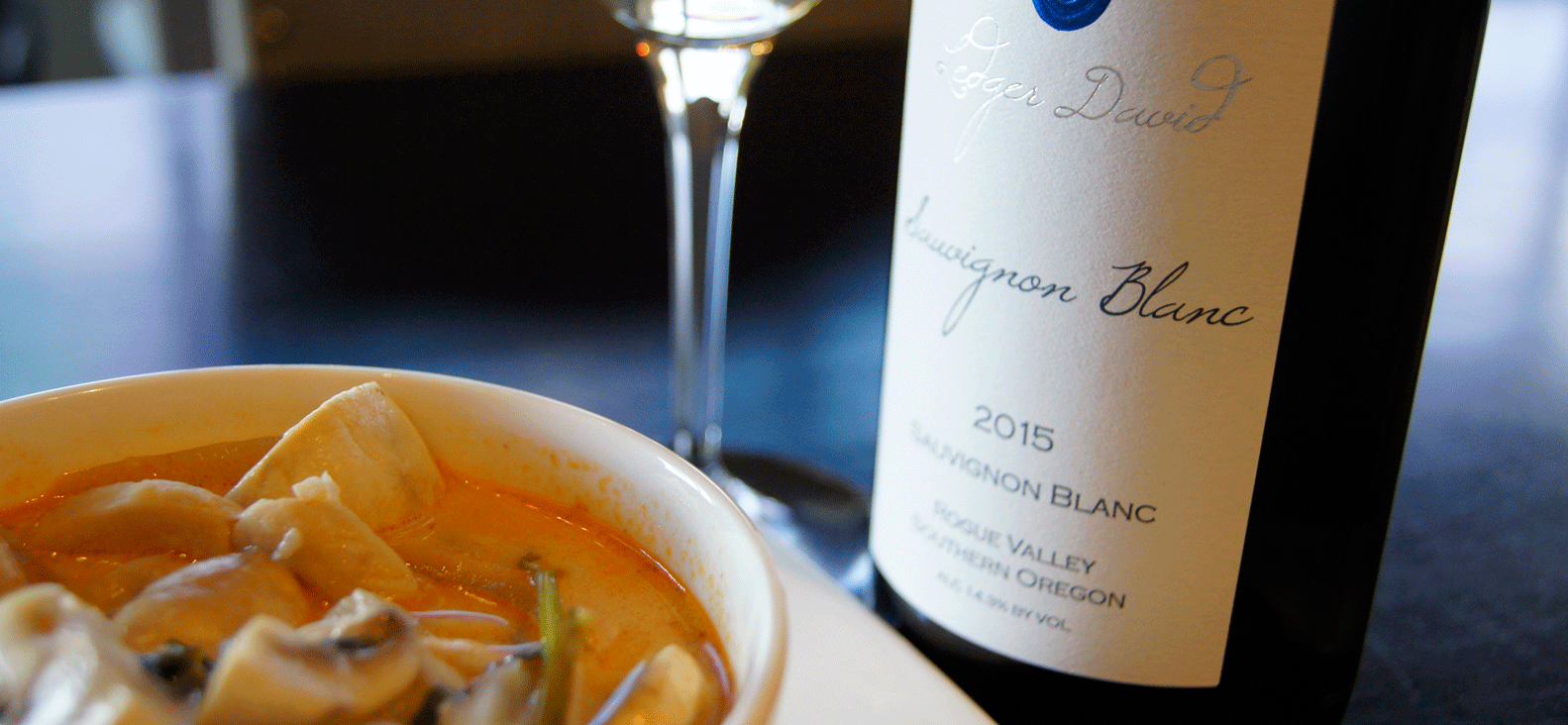 Thom Kah Kai Soup paired with 2015 Ledger David Sauvignon Blanc
Robert's simple riff on Thom Kah Kai Soup paired with 2015 Ledger David Cellars Sauvignon Blanc
Serves 4
This coconut milk based classic Thai soup with its citrus notes and spice pairs beautifully with our 2015 Sauvignon Blanc. I have slightly modified the classic recipe to make it easier to find the ingredients without having to find an Asian grocery; though we have one in Medford where you can source all the classic ingredients. This is fast, healthy and delicious.
INGREDIENTS:
3 cups chicken broth
8 slices of ginger root (peeled)
1 large stalk of lemon grass cut into 2 inch pieces (for flavor only – don't eat it)
Strips of peel from 1 small lime
2 cans of coconut milk (14 oz each)
1 lb. boneless chicken breasts cut into bite size pieces
¼ cup fresh squeezed lemon juice
2-1/2 tablespoons brown sugar
2-1/2 tablespoons Thai fish sauce (add more to taste if you like)
½ lb. mushrooms (your choice – I like cremini's) sliced thin
5 medium jalapeño chilies (de-seeded and sliced and chopped thinly)
PREPARATION:
Put the chicken broth, ginger and lemon grass in a stock pot. Add the lime peel strips. Bring this to a low boil for one minute and add the coconut milk. Stir in the chicken and brown sugar. Add the chilies and mushrooms. Cook until the mushrooms and the chicken are tender and cooked through but not overly done.
Serve with a side of jasmine rice and 2015 Ledger David Cellars Sauvignon Blanc.
Enjoy!
Press & Trade
Click here
for press info, press releases and images available for download.
Recent News
Visit Us
Le Petit Tasting Room
245 N. Front St, Central Point OR 97502