Trends in Vineyard Management Include Using Birds of Prey for Pest Control
By Winemaker Kiley Evans
Every year the entire Oregon wine industry gathers to discuss all things marketing, sales, business, vineyard, and yes, wine. The peak is the Awards Dinner during which members of the state's wine industry are recognized for their contributions to the advancement of Oregon wine. Ledger David's award-winning 2011 Orion's Nebula red blend was fortunate enough to be selected by a team of talented Oregon sommeliers as one of ten wines served at the dinner.
The Oregon Wine Board scheduled lectures on subjects ranging from using drones to gain perspective on vineyard management impacts to business succession planning. The most interesting lecture I attended featured insights into different fermentation vessels comparing stainless steel tanks, wood tanks, concrete vats, and clay amphorae. The textural differences were remarkable owing mainly to the different air permeation rates for each material. Concrete, oak, and clay all "breathe" to different degrees whereas stainless steel is completely airtight. That subtlety has a big impact on how wines develop mouthfeel during fermentation. Another interesting session focused on how viticultural practices can impact the pace of fruit ripening. An experimental vineyard site harvested fruit at similar ripeness levels on three different days called "early", "middle", and "late." After identical fermentation and aging protocols the wines exhibited similar color and aromatic profiles, but the level of extract and tannin was significantly different between the three treatments. The early harvest was light and elegant, the middle harvest was richer and more intensely flavored while the late harvest was deep and broodingly structured with obvious ageability.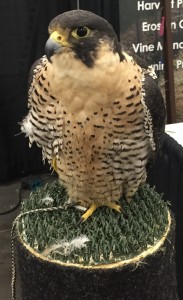 In addition to lectures, the symposium included an extensive Exhibit Hall featuring everything wine-related from tractors to wine bottle labels to winery floor coating options, but the most interesting booth contained bird roosts. That's right.
There is a company that specializes in an unique form of bird control. Some migratory birds such as Robins, Starlings, and Cedar Waxwings are ravenous feeders that absolutely love ripe grapes. A flock of any of these can consume several tons of fruit in just a few hours. Many control methods use distress calls or propane gas cannons to scare birds away or nets to cover the fruit. A novel biological method to control these pests that is completely sustainable and has nearly zero impact is to use birds of prey to literally chase the pest birds out of the vineyard. Using imported Asian falcons (domestic birds of prey are protected species and as such cannot be legally domesticated for use) this company will come to your vineyard and use their trained falcons to chase out other birds. Having seen this in operation I can say it is really interesting to see how a single small falcon can have such enormous impact.
I always enjoy the time with friends that I don't see often, as well as meeting new people. Here's to another great Oregon Wine Industry Symposium and a big thank you to the organizers for putting together a fantastic educational program!
Press & Trade
Click here
for press info, press releases and images available for download.
Recent News
Visit Us
Le Petit Tasting Room
245 N. Front St, Central Point OR 97502