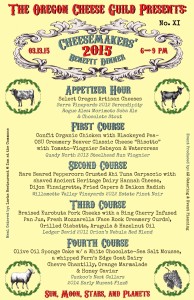 By Regina Vaccari
Calling all fine cheese and wine lovers! Kick off spring with Ledger David this weekend at Le Petit Tasting Room in Central Point as we celebrate the 11th Annual Oregon Cheese Festival. It's always a busy, fun time during this annual event, held this year at the Rogue Creamery, Saturday, March 14 from 10am-5pm. To complete their culinary experience, event attendees make it a tradition to stop at the Artisan Corridor's neighboring wine and chocolate shops. That's where we come in!
We'll be open from noon-5pm to greet you with a selection of your favorite wines paired with warm tomato soup and clam chowder, and fresh baked bread. Don't miss live music from local artists from 1-4pm. If you're heading over to the big tent at the Creamery, stop by and see David & Deanna!
Ledger David is honored to have been selected as one of four wineries featured at the pre-event Cheese Maker Dinner the night prior to the festival, on Friday, March 13. Our 2011 Orion's Nebula is being paired with Braised Kurobuta Pork Cheeks with a Bing Cherry Infused Pan Jus, Fresh Mozzarella (Face Rock Creamery Curds), Grilled Ciabatta, Arugula & Hazelnut Oil.
We stopped to talk to event organizers about the event. We found out that Southern Oregon (actually Central Point) is the birthplace of the Oregon Cheese Guild, which was founded in 2006. Rogue Creamery was the site of the first Oregon Cheese Guild Benefit Dinner and the first Oregon Cheese Festival.
The event features a unique menu, an opportunity to learn about some of the finest cheese in Oregon directly from the cheesemakers (OSU Creamery, Face Rock Creamery, Ancient Heritage & Fern's Edge Goat Dairy) as well as an opportunity to learn about Oregon wines from the winemakers. All event proceeds benefit the Oregon Cheese Guild.
For more info, visit www.oregoncheeseguild.org.
Cheers!
Press & Trade
Click here
for press info, press releases and images available for download.
Recent News
Visit Us
Le Petit Tasting Room
245 N. Front St, Central Point OR 97502