While the vineyard crew is busy bringing in the grapes that will ultimately produce wines for our 2015 vintage, past vintages and current releases are gaining new recognition this month by a number of noteworthy publications. We're proud to share the results of our latest 'crop' of wine awards with you. Look for the October 2015 issues of these publications, which hit newsstands this month.
Ledger David 2013 Malbec, "Best Malbec"
SIP Northwest Magazine's 'Best of the Northwest'
Ledger David 2012 Tempranillo, Silver Winner
Sunset Magazine's Int'l Wine Competition, Sunset Buying Guide
Ledger David 2014 Sauvignon Blanc, 'Best Wine Under $25'
Portland Monthly Magazine's, "Oregon's Best Wines Under $25"
Other recent wine awards include:
Ledger David 2014 Sauvignon Blanc – 92 Points, 'Editor's Choice'
"Fermented in stainless steel and one neutral barrel, this aromatic and compelling wine is clean, fresh and full of delicious fruit." – Editor Paul Gregutt
Ledger David 2013 Primoris Chenin Blanc – 91 Points, 'Editor's Choice'
"Chenin Blanc is quite rare in Oregon, and this wine, from vines planted just five years previously, may inspire others to follow suit…The balance and length are just right and the varietal character is in evidence throughout." – Editor Paul Gregutt
Ledger David 2013 Malbec, Gold Winner
Oregon Wine Experience, August 2015
2013 Petit Verdot, Silver Winner
Oregon Wine Experience, August 2015
2014 Primoris Chenin Blanc, Silver Winner
Oregon Wine Experience, August 2015
In addition, Ledger David's Dark Night red blend was also recently reviewed by notable wine blogger Michael Chelus of Nittany Epicurean, just in time for the new 2013 vintage to arrive!
Cheers to past, current and future vintages!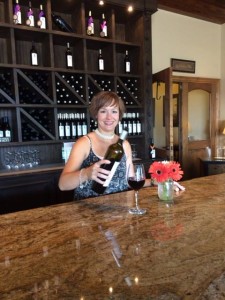 We are excited to introduce our new tasting room and events ambassador, Shirleen Bransom. Shirleen joins Ledger David with a background in tasting room management. She also teaches small children and has a love for photography, heath & fitness and the outdoors. Here's more from Ledger David's newest team member. Welcome, Shirleen!
1. What three traits best define you?
Easy going, hard working, going above and beyond what's expected
2. What is your personal philosophy?
Embrace chaos, change is the only constant
3. What's one thing you couldn't live without?
Family
4. What is the one thing you cannot resist? (food/dessert/drink/etc.)
Homemade Chex Mix
5. Where is your favorite place to be?
My porch swing at the end of the day
6. What is your favorite thing to do?
Hiking the redwoods and visiting the coast
7. Where is the best place you've traveled to and why?
Disneyland, it's as fun for me as it is my kids
8. What's the coolest (or most important) trend you see in the wine industry today?
I'm impressed mostly locally. Our area in Southern Oregon has boomed over the years in the wine industry. We are a wine destination now and that excites me.
9. What advice do you have for new wine enthusiasts?
Take your time, start with what you like, then try new wines. You don't have to get the same flavor profiles as a tasting note suggests, just relax and enjoy the wine.
10. What's the best thing you've learned from seasoned wine connoisseurs?
"If you like the wine now, when you bought it, enjoy it now. Why cellar it?"
11. When did your interest in being a Wine Tasting Room Ambassador begin?
Many years ago, my Mom-in-law introduced me to wine and wine tasting. Then about 4 years ago, I thought I would really enjoy working in the industry. Sales and talking to people is kind of my thing, so here I am.
12. What does a Wine Tasting Room Ambassador do?
They are in essence the first impression a guest has about the wine. They help the guest enjoy and understand the wine from that particular vineyard.
13. What is unique about your job at Ledger David?
I believe at Ledger David we go beyond just talking wine. We explain some of the vineyard processes, flavor profiles, pairings, even stepping up as a concierge for the entire valley.
14. What do you love most about your job?
Meeting and interacting with all the guests. So interesting that some days it's all locals, then the next may be no locals, but guests from around the world.
15. What does Ledger David's tagline: "Your Time. Your Wine. Indulge." mean to you?
Everyone's time is precious and you should be able to choose a great wine and relax, enjoy the free moments that you do have.
16. How does your role help ensure that Ledger David delivers its "Your Time. Your Wine. Indulge." tagline?
I try to aid the guest in choosing the right wine for that moment, whether it be going through the fun of a full flight or just getting a glass and relaxing for a bit. I will also assists guests in finding their next destination, dinner, outdoor activity, theater, or next tasting room to visit.
17. Outside of Ledger David, how do you spend your time? (photography/teaching/hiking/exercise, etc.)
Yes, to all those suggestions. I do love photography. I'm very active and enjoy being outside as much as possible. I hike and geocache with my kids a lot. Spending time, building relationships and memories with family and friends, is extremely important to me and something I work at daily.
Press & Trade
Click here
for press info, press releases and images available for download.
Recent News
Visit Us
Le Petit Tasting Room
245 N. Front St, Central Point OR 97502