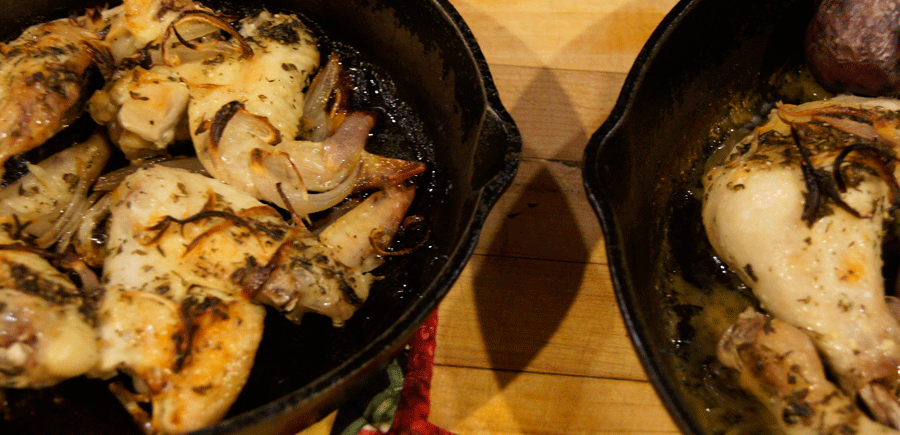 By Robert Trottmann
Serves 6
So you are wondering, why is Robert pairing chicken with Cabernet Franc? Well, sometimes rules are meant to be bent, especially when it comes to food and wine. This pairing may well be one of the most integrated and balanced I have put out there for you all. It is balanced, like Ledger David Cabernet Franc. It is straight forward (super easy) and perfect for these hectic holiday times and it is healthy. What more could you ask for? I roasted olive oil and salted purple potatoes with the chicken to add to the meal.
The subtle flavors of herbs de Provence matches perfectly with our Cabernet Franc. The leg meat being the dark meat of the chicken is rich and complimentary to the wine. Oh, and don't hesitate to try this on turkey, pheasant, quail, or chukkar.
Ingredients
2 Tablespoons Herbs de Provence (or pull from your herb garden and go fresh)
Juice of 1 medium lemon
4 Tablespoons Olive Oil
Coarse Salt to taste
Fresh ground black pepper
1 finely sliced shallot
6 legs and thighs free range organic chicken
Preparation
Mix the herbs de Provence, lemon juice, olive oil and salt and pepper in to a bowl and whisk together. Pour this marinade over the chicken and thoroughly coat. Place the chicken into a large cast iron skillet.
Cut the shallot in ½ length wise the finely slice. Garnish the chicken with the shallot in the skillet. They will crisp up nicely and add another layer of depth.
Preheat oven to 475 degrees. Roast chicken and potatoes 40-45 minutes until golden and cooked through. Season to taste with salt and pepper.
Add a fresh field greens salad and serve with Ledger David Cellars 2013 Cabernet Franc…You are going to love it. Fast, simple and so delicious!
Enjoy!
Robert
Press & Trade
Click here
for press info, press releases and images available for download.
Recent News
Visit Us
Le Petit Tasting Room
245 N. Front St, Central Point OR 97502