By Robert Trottmann
Serves 4
Paired with 2015 Ledger David Cellars Chardonnay
My chickens are kicking and the leeks and asparagus is coming into the market. Two sunny side up eggs sit atop a filling of leeks, shallots, wild mushrooms and topped with asparagus and Gruyere cheese. It's a simple and quick to make savory entrée that celebrates spring! You could also serve it for a brunch.
Ingredients:
4 tablespoons butter equally divided
¼ cup minced shallots
8‐10 ounces wild mushrooms thinly sliced (your choice-shitake, cremini or another favorite of yours)
4 tablespoons heavy cream
½ cup shredded Gruyere cheese (or you can substitute with parmesan or another of your favorite)
½ cup thinly sliced leeks (both white and green parts)
½ cup asparagus tips, blanched
8 eggs
Salt and pepper to taste
To prepare:
Preheat oven to 400 degrees. Lightly coat the inside of the ramekins with butter. Melt remaining butter in a medium skillet and sauté the shallots (about a minute), add the mushrooms and cook until tender, toss in the leeks and cook until wilted. Add the cream until it lightly bubbles and remove from heat immediately. Lightly blanche the asparagus tips in salted water, rinse and dry.
Spread the shallot, mushroom, leeks and cream mixture equally into 4 ramekins. Place two eggs in each on top, add the asparagus tips and cheese. Bake at 400 degrees for 10-15 minutes until bubbling and the eggs are cooked to your desired doneness.
Serve immediately. Enjoy!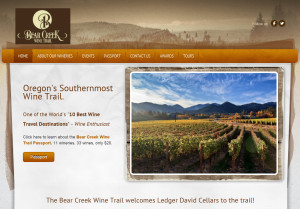 Ledger David Cellars is proud to be one of the newest members of the Bear Creek Wine Trail! In the hills along the back roads of the Bear Creek Valley, the southernmost portion of the Rogue Valley AVA, the Bear Creek Wine Trail is just minutes away from Ashland, Medford, and Jacksonville. With ease of access from attractions including Britt Festivals and the Oregon Shakespeare Festival, the Bear Creek Wine Trail is conveniently located to enhance your Southern Oregon experience.
Ledger David joins 12 other wineries including Belle Fiore, Dancin, Pebblestone, Stone River, Aurora Vines, Paschal Winery, Trium Wines, Dana Campbell, Grizzly Peak, Weisingers, and Roxy Ann. These estate wineries provide an intimate and welcoming atmosphere where you will discover distinctive wines crafted from carefully tended vineyards. Look for information on Bear Creek Wine Trail's annual Winery Passport, which will be available at the tasting room by April 15, and other upcoming wine trail events at www.bearcreekwineries.com.
Press & Trade
Click here
for press info, press releases and images available for download.
Recent News
Visit Us
Le Petit Tasting Room
245 N. Front St, Central Point OR 97502