Grilled Pears with Rogue Creamery Oregonzola Blue Cheese, Walnuts & Spicy Mustard Vinaigrette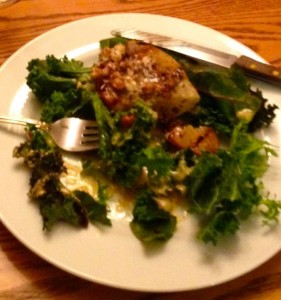 By Robert Trottmann
Serves 4
Ingredients
For the Vinaigrette
1 large shallot, minced
1 large garlic clove, minced
2 teaspoons Dijon Mustard
2 tablespoons Stone Ground Spicy Mustard
2 tablespoons honey
¼ cup sherry vinegar or red wine vinegar
¾ cup olive oil
Season with salt and pepper to taste
For the Pears
2 Ripe Southern Oregon Bosc Pears
¼ cup Walnut pieces (chopped)
¼ cup Rogue Creamery Oregonzola Blue Cheese
1 tablespoon local honey
For the Salad
4 cups Mesclun Salad mix
Instructions
You can either grill the pears on your grill or use a cast iron griddle with ridges on the stove top.
Make the vinaigrette. In a food processor or blender chop/pulse the shallots, garlic, both mustards and vinegar until incorporated. Add the olive oil and blend until the oil is emulsified.
Grill the pears. Cut the pears in half, core them and brush all surfaces with a light oil like walnut or hazelnut. You can slice a small piece off the back side of the pear to keep it from rolling but this isn't necessary as the pears will rest on the greens just fine. Grill the pears cut face down. Cover and cook until heated through and nice grill marks appear…about 10 minutes.
In the meantime, toast the walnuts in a cast iron skillet on medium heat until toasted, about 5 minutes. Pour the warm toasted walnuts into a small bowl and add the crumbled Oregonzola Blue cheese and the honey. Stir lightly to incorporate.
On four plates place equal amounts of the mesclun mix and drizzle lightly with the vinaigrette.
When the pears are nicely grilled turn them over and place an equal amount of the walnut and cheese mixture onto each pear and place the pears on the beds of greens.
Serve warm. Enjoy with Ledger David Primoris Chenin Blanc for a perfect pairing!
Press & Trade
Click here
for press info, press releases and images available for download.
Recent News
Visit Us
Le Petit Tasting Room
245 N. Front St, Central Point OR 97502